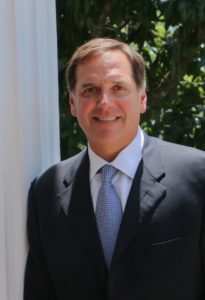 Pope is one of the most recognized litigators in South Georgia, representing both catastrophically injured victims, families who have lost a loved one, as well as individuals in businesses involved in complex commercial litigation. Pope limits his practice to seriously injured individuals and wrongful death claims, resulting from motor vehicle collisions, tractor-trailer crashes, motorcycle accidents, medical malpractice, defective products, unsafe premises, and other hazardous conditions. He approaches every case with the belief that his client deserves the upmost dedication of time and resources in order for that client to obtain the justice that they deserve.
Pope's Experience
In the last ten years, Pope has successfully obtained through settlement or trial, recoveries for clients in excess of 250 million dollars. He has obtained one of the highest personal injury verdicts in South Georgia, one of the highest wrongful death verdicts in South Georgia, one of the largest wrongful death settlements in a routine motor vehicle accident in a rural south Georgia community and one of the largest civil rights verdicts in the State of Georgia. At the same time, Pope handles complex commercial litigation, often involving disputes in the tens of millions of dollars. For example, Pope defended a company arising out of one of the largest wildfires in the State of Georgia, represented a California company in a contract dispute over the largest Lowe's retail center in the country, an Italian motorcycle company in a dispute over importation and distribution of motorcycles in the U.S., and a multi-state bank fraud case involving automobile dealerships.

Pope has litigated cases in numerous states across the country, including Florida, Alabama, New York, Oklahoma, Texas, Colorado, Maryland, and New Jersey. Recently, he successfully defended a client in a business fraud case in Oklahoma, resolving the matter successfully pre-trial, for the client, after which the case proceeded to trial and the remaining defendant suffered a 50 million dollar verdict.
Pope received his bachelor's degree at the University of North Carolina at Chapel Hill. He thereafter received his J.D. from the University of Georgia, cum laude, where he also served as an Editor on the Georgia Law Review, publishing one article titled Metro Broadcasting v. FCC, 25 Ga. L. Rev. 535 (1990).
Pope is actively involved in the State Bar of Georgia. He served on the Board of Governors from 2004 to 2008, and currently serves on the elections committee and lawyer advertising committee. He also serves on the Unlicensed Practice of Law District 2 Committee. Pope was recently selected by the federal judges in the Middle District of Georgia to serve on the Advisory Rules Committee for the Middle District of Georgia. He is a Board Member and District Representative of the General Practice and Trial Section of the State Bar dedicated to trial practice. He has served as its Secretary, Treasurer and Chairman.
He is also an officer of the Executive Committee for the Georgia Trial Lawyers Association, serving as the Association's President. He is a member of the Southern Trial Lawyers' Association, and the American Association of Justice. He is a Fellow of the Lawyer's Foundation of Georgia, a non-profit arm of the State Bar of Georgia limited to only 3% of Georgia lawyers whose public and private careers demonstrate outstanding legal abilities and a devotion to their communities. He was recently selected to serve as a special master under the Supreme Court of Georgia in lawyer discipline cases, and was appointed by the Lt. Governor to serve on the committee to select the public defender for the Southern Judicial Circuit.
He was honored as being chosen by his peers as a Georgia Rising Star, being among the top up and coming lawyers in Georgia under 40 years old. Thereafter, he has been consistently selected as Georgia Super Lawyer. He is also recognized as a Top 100 Trial Lawyer by the National Trial Lawyers and as an AV® Preeminent attorney in Martindale-Hubbell.
Pope has been certified as a life member of both the Million Dollar Advocates Forum and the Multi-Million Dollar Advocates Forum. This forum is one of the most prestigious groups of trial lawyers in the U.S. The organization was founded in 1993, and is limited to attorneys who have won million and multi-million dollar verdicts, awards and settlements. Fewer than 1% of U.S. lawyers are members.
He has been recognized and included among the best trial and appellate lawyers in the bar by his honor of being a Fellow in the Litigation Counsel of America, The Trial Lawyer Honorary Society. This honorary society recognizes excellence, integrity, and diversity within the law.
In conjunction with his professional affiliations, Pope is also actively involved in the community. He is a member of Park Avenue United Methodist Church. He is a prior member of the Board of the United Way of Lowndes County, where he served on the executive committee, served for several years as Chairman of Allocations, directing where the funds raised by the organization were spent and served as the Campaign Chairman along with his wife, Evelyn. He has been a member of the executive committee for the local YMCA Board of Directors, has served as Treasurer, Vice-President, and President of the Lowndes Education Improvement Foundation, and currently serves on the Board of Directors of Guardian Bank, and its holding company, WB&T Bankshares.
Last, he is an accomplished pilot, with over 2,000 hours of pilot time, holding a commercial pilot's license with multi-engine instrument ratings, a series 525 type rating and a helicopter license. He utilizes this skill in his law practice, allowing him to represent clients throughout the country.
Contact Pope
Langdale Vallotton, LLP
1007 North Patterson St.
P.O. Box 1547
Valdosta, GA 31601
Email:plangdale@langdalelaw.com
Phone: (229) 244-5400
Fax: (229) 244-0453