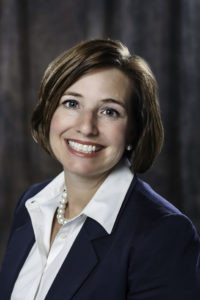 Christina L. Folsom, "Tina", received her Juris Doctor degree from Mercer University's Walter F. George School of Law in 1999. She formerly practiced in Albany, GA before relocating to Valdosta and joining Langdale Vallotton in 2006. She is a member of the Valdosta Bar Association and the State Bar of Georgia. She is admitted to practice before the United States Court of Appeals for the Eleventh Circuit, the Supreme Court of Georgia, the Court of Appeals for the State of Georgia, as well as the United States District Court for the Middle District of Georgia. Tina is also a member of Georgia Trial Lawyers Association. In 2012, Tina was honored as being chosen by her peers as a Georgia Rising Star, being among the top up and coming lawyers in Georgia. Each year, no more than 2.5% of the lawyers in the state receive this honor. In 2019, Tina was honored to receive the Chief Justice Robert Benham's Commission on Professionalism, Community Service Award. In 2020, Tina was honored as being selected to the Super Lawyers list. In 2022, Tina was registered as a mediator with the Georgia Office of Dispute Resolution.
Tina is also actively involved in the community. Tina currently is a member of the Board of Directors for the Turner Center for the Arts as Vice-President and Chairperson of the Presenter Series, President of the Board of Directors for the Georgia Association of Women Lawyers (GAWL), and a member of the Board of Directors for Tennis Valdosta as Past-President. Tina has served as a dedicated volunteer for many organizations in Valdosta including, past member of the Leadership Lowndes Board of Trustees, Past President of the Board of Directors for Lowndes Associated Ministry for People, Inc. (LAMP) – Valdosta's homeless organization, the American Heritage Girls, United Way, Second Harvest of South Georgia, and Habitat for Humanity. She participated in Leadership Georgia Class of 2017; a graduate of the 2014 Leadership Academy of GAWL, an Associate member of the Valdosta Junior Service League and was in the 2008 class of Leadership Lowndes. Tina has served in several leadership capacities and is an active member of Park Avenue United Methodist Church.
Tina's practice includes representing creditors in bankruptcy, representing educators in disciplinary actions brought by the Professional Standards Commission as well as in employment actions brought by local school boards, representing employees and employers in worker's compensation cases, general civil litigation, and probate law.
Contact Tina
Langdale Vallotton, LLP
1007 North Patterson St.
P.O. Box 1547
Valdosta, GA 31601
Email: tfolsom@langdalelaw.com
Phone: (229) 244-5400
Fax: (229) 244-0453